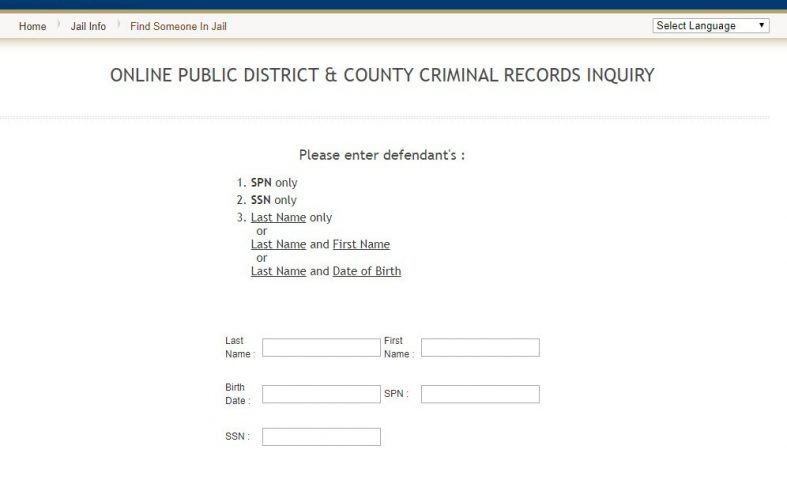 Is There an Online Houston DWI Arrest Look-up?
If a friend or family member have been arrested for DWI, it can be very difficult to get updates on their well-being or to see what the next steps are to get them out of jail. The DWI legal process is convoluted at best and even they don't get all the information you would expect while incarcerated.
Can My Loved One Call Me From Jail After a DWI Arrest?
Even when they are given a call, they may not be able to reach you. To begin with, they take your cell phone away so any number you want to call you better have memorized. Sounds funny until you realize you've never had the need to memorize your wife's phone number.
The phones provided are often tied up by others or don't function properly. The phones in Harris County Jail don't even have a handset, so you're forced to press your ear against the phone and try to hear over the noise of other cellmates that is amplified by the concrete jail walls that surround you on four sides. It's frustrating for all involved, and is just one of the many reasons you should consider hiring a Houston DWI Lawyer.
Finding a Loved One After a Houston DWI Arrest
After a DWI arrest, the arresting officer will take your family member back to the police station to be booked. If you are arrested by Houston Police, you will likely start at the City of Houston Jail. The booking process will take several hours but once complete, you should be able to find their information on Houston's online search. They will remain in the Houston Jail for about 24 hours or until they are released. After the first 24 hours, they will be transferred to the Harris County Jail.        
Houston DWI Arrest Lookup (Online)
The City of Houston and Harris County offer online searches to help track down a person after they have been arrested for DWI (or any other crime).
The lookup can be found HERE
You can search by SPN (System Person Number) which is a number assigned to any inmate when booked. Chances are you will not have this number handy but when you do get it make a note and have it handy because it will be the most important number when looking up information in the future.
You can also look up inmates based on the following:
Social Security Number
Last Name
Last name & First Name
Last Name and Date of Birth
If you use any combination of the above options, you will also be provided the SPN at that time.
Houston DWI Arrest Contact Information
If the online search tool is not providing you the information you need, you can also contact the facilities the old-fashioned way.  The physical location and contact information for these locations is below:
 

Harris County Jail Facility

   700 N. San Jacinto (JA14)
700 N. San Jacinto Houston, TX 77002
   701 or 711 N. San Jacinto (JA07)
701 N. San Jacinto Houston, TX 77002
   1307 Baker Street (JA04)
1307 Baker St. Houston, TX 77002
   1200 Baker Street (JA09)
1200 Baker St. Houston, TX 77002
 

Outsource Jail Facility

Phone #
   Bowie County Correctional Center (XB55)
105 West Front Street Texarkana, TX 75501
903-798-3505
   Jack Harwell Detention Center (XM55)
3101 Marlin Hwy Waco, TX 76705
254-759-5900
   Jackson Parish Correctional Center (X287/X289)
327 Industrial Drive Jonesboro, LA 71251
318-259-8799
   Jefferson County Downtown Jail (X281/X282/X283)
1001 Pearl Street Beaumont, TX 77701
409-434-4653
   Limestone County Detention Center (X147)
910 North Tyus Groesbeck, TX 76642
254-729-2674
   Fort Bend County Jail (X284/X285/X286)
1410 Williams Way Richmond, TX 77469
281-341-4619
What To Do Once You Find Them
So you've found your family member / friend and they have been arrested for DWI. What should you do next?
Your next step needs to be a call to a qualified Houston DWI lawyer.
Texas courts do not treat DWI lightly. There are significant DWI penalties. There are significant DWI costs. There are collateral consequences of a DWI that may have the most affect on your life now and moving forward. This is true even in the case of a first time DWI.
The DWI legal process is both confusing and intimidating.
A good DWI attorney is not cheap, but the value they provide cannot be understated. Getting a case dismissed requires experience. Reducing penalties and costs requires specialization. Having somebody who can walk you through the entire process provides peace of mind with a clear defense strategy. Hiring a qualified DWI lawyer will help you save your license at an ALR Hearing – a hearing you can only request within 15 days of getting arrested.
To be 100% Clear: The cost of a Houston DWI lawyer is a LOT less than the cost of a DWI in Texas.
Call Clyde Burleson to Help You Today!
Contact Clyde today for a free DWI case consultation at 713-628-1503